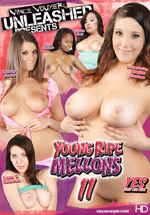 Release date: August 28, 2013
One thing I've learned in life is that it's always good to have a specialty, something that makes you an expert in your field. In my case, I have a few specialties. One of them happens to be boobs. Let me be more specific: Big, Bouncing, Natural Boobs that will make your mouth water. I love big boobs so much that I had to create a porn series focused on them in 2001.

When I started the "Young, Ripe Mellons" series back in the day, I did it mostly for me and I figured if the fans liked it too, I would keep it going. Well needless to say, the fans let me know what's up. So here we are in the summer of 2013 and I've brought it back again with Volume 11. Gentlemen, this one is probably my best volume yet thanks to a cast that must be seen to be believed.

I've got five eager young bimbos with boobs so big and bouncy they'll bring tears to your eyes. No surgical enhancements here. Just all-natural, big beautiful boobs like nature intended. But enough about me, allow me to introduce my starting lineup for "Young Ripe Mellons 11."

Eighteen-year-old Tennessee tart Noelle Easton is like a gift from heaven. She had barely landed in LA for the first time before I got her on my set and told her to unleash her natural-born, monster rack. They used to call her Titanic Tits back home in Knockersville, I mean Knoxville. And it's no wonder why. Yup, she's sportin' 38DDs. Noelle is not much for words but she is all about putting a stiff cock in her pussy and mouth. Mr. Pete takes on the 38DD's as only a professional stud can, banging Noelle so hard that her boobs went into spin cycle before she took his load on her teen face.

There's not much better than a 20-year-old with perfect C-cups, unless you can find one who is also an ebony princess like busty stunner Mya Lushes. Mya is new to the porn scene, but you'll be hearing a lot more about her soon with a rack like this. Her C-cups fall so perfectly it's almost like they were sculpted from clay. And she even has silver-dollar-sized areolas on those tremendous titties. Mya explains that she is new to the white man's cock, but that's ok because Alex Gonz knows just how to handle a piece of fresh meat. Mya proves she is up to the task, gobbling Alex's knob without even so much as breaking a sweat. You gotta see the boob shake on this girl...Whoa Nelly!

I'm not sure what they're putting in the water down in Puerto Rico, but who cares, because if they're churning out big-boob super sluts like 21-year-old Linda Lay, I don't even need to know. Linda packs some 32DD's in her tight sweater and she loves to flaunt them along with her pretty little pussy. Linda has fucked lots of porn studs but this time I wrangled her some new cock. His name is Clover and he is packing more than what Linda is used to. When Linda pulls out Clover's hefty piece, her response is priceless along with the huge facial she gets at the end.

Next up, I have a 20-year-old with 34D breasts who is already making quite the name for herself in the porn business. Her name is Luna C. Kitsuen and she has the puffiest nipples I've seen in many moons. She also sports the firmest natural breasts that are so firm that I was able to set up my laptop on them to write this for you. And if you like pierced nipples, you will love Luna's jaw-dropping rack. With that said, I decided to take one for the team. So I personally fed Luna my cock for a POV pounding before Luna insisted on swallowing every drop of my baby batter.

Last but certainly not least, I present to you bodacious Texan Kelsey Jones. They say everything's a little bigger in Texas, and let's just say I saw why after getting my first look at this gorgeous 20-year-old with 34Cs. Kelsey walked onto my set in a tiny top with her rack literally falling out of her shirt! She told me they always fall out, and I told her that's a nice problem to have as I wiped the drool off my chin. Kelsey is a long-legged, tan sexy-as-hell fuck doll with full, perky, natural breasts that will make you beg for buttermilk while your cock is rock hard. Kelsey's slutty personality translates well on screen as she gets pounded out by Alex Gonz. Alex gaped her pussy several times so wide that I thought I saw what she had for lunch in between titty-fucking her rack and blowing his load in her mouth. Like a good whore, she swallowed the whole load.