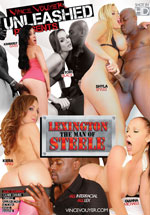 Release date: August 05, 2013
All Interracial! All Lex!
4 Hours of Interracial Action with your favorite stars getting pounded by Lex!

In this case, I'm talking about a man who practically reinvented butt sex, a true living legend--Lexington Steele. Guys like Lex don't really need an introduction. Not when they're packing a 14-inch pussy-wrecking python between their legs. Not when they've gone hard to more holes than LeBron. And not when the mere sight of his massive pecker causes woman to wipe fresh sweat from their brow and fidget with excitement.

It's true that Lex has won more performing awards than about 99 percent of the male performers working today, including three AVN Male Performer of the Year honors. His colossal cock should be in the Museum of Modern Art. In the meantime, we've got four solid hours of watching Lex's monster cock inflict serious damage on several tiny pussies and assholes.

Now as we all know, every horny guy in America wishes he could do porn. Many apply and few are chosen. Even fewer enjoy the longevity that the Man of Steele has experienced. Lex goes through more pussy in one week than some guys get in their entire lives. He's done a few thousand sex scenes in his glorious career, and I've been fortunate enough to personally witness many of them. And for the first time in years, I've decided to share my top 11 scenes starring Lex and his perennial pussy pumper in stunning HD video quality. These are rare, exclusive scenes that you will not find anywhere else, hand-selected from my private collection.

So, without further adieu, I present to you the comp to end all comps, The Man of Steele, uncensored and unapologetic, Vince Vouyer Unleashed style. Any questions?

First up I'm giving you a classic big-tit, big-ass blonde bimbo who goes by the name of Shyla Stylez. Miss Stylez rocked the porn world during her fantastic jizz-eating career. Her baby blue eyes, slutty voice and giant milk jug tits captivated a nation for several years. And I made damn sure that she didn't get out of the industry without first taking Lex's Supercock up her shithole. Seeing Shyla's round rump wiggle and jiggle around Lex's foot-long salami is why I get up in the morning. And now I'm sharing the love with you in this outstanding opener.

Batting second is a legend in her own right. Hope you're sitting down for this--I have Tori Black's first interracial anal scene courtesy of our fearless hero. Tori absolutely owned the porn business for about a three-year span when everyone wanted a piece of her incredible performances and her supermodel looks. I was one of the first directors who saw her superstar potential and didn't think twice about matching her up with porn's version of Clark Kent for an anal occasion that I'll never forget. In this ball-draining session, Lex gives Tori a brown-eye surprise that left her sphincter pulsating for days afterward.

Since I know my fans loves big asses just as much as I do, I had to include the Man of Steele meeting the humungous ass of Gianna Michaels and doing what he does best. Gianna's ass is so large it has its own area code. She also has big boobs with cleavage so deep that you need a compass to find your way out. Lex may have porn superpowers, but his kryptonite is definitely a big ass combined with big boobs and Gianna has plenty where that came from. So I set the poon gangster loose on her one day and watched him devour her pussy like a hungry wolf feeding on his prey. It was poetry in motion, fellas.

Anyone who's followed my series knows that there is nothing I like more than shooting girls doing their career "firsts." So after getting to know big-boob, big-ass babe Kiera King, I had to bring up the subject of her first anal scene. Kiera said she was down to try it and so I told her simply, "go big or go home, honey." Luckily, I had Lex on speed dial, and I quickly called the big man and told him to get his ass to my set as soon as possible before she changes her mind. Lex showed up 10 minutes later and I introduced him to Kiera and one look at her big boobs and big ass and he nearly blew a cum gusher right on the spot. It was a case of butt lust at first sight as Lex pounded Kiera's asshole like he was born to do it.

Speaking of dirty girls, big asses and big tits, I would have been remiss to make a Man of Steele comp and not include Lexington stretching the tight anal cavity of Claire Dames. Talk about a professional whore. Claire wanted Lex's jumbo schlong in her ass more than she wanted to be prom queen. And when Lex finally obliged, she sure felt like a queen with that stiff black pole lodged deep inside her sphincter. Claire's filthy enthusiasm was matched only by the Man of Steele's desire to teach her an anal lesson. Like an expertly trained anal assassin, Lex blasted her shithole so fast and so furiously that I had to take a cold shower when the shoot was over just to calm myself down.

This amazing porno event also stars Gisselle, Shawnie, Victoria, Kimberly Gates, Angel and Allura Bond each learning the hard way about why they call Lex The Man of Steele.